Regenerating and revitalising algae cosmetics - AQUAFLOR

Many microalgae have special attributes which are useful to humans. Aside from high vitamin and protein content, antioxidants are of special interest. Due to their radical-catching attributes, they provide highly developed protection against aggressive molecules which are formed daily in our metabolism or to which we are exposed as a result of environmental stress.
When they are worked into various skin care products, the natural protective mechanism of the microalgae benefits your skin, with regenerating and revitalising effects. Various positive effects on the organism are also obtained simply by taking algae tablets in addition to a normal diet.
Enter our AQUAFLOR-Shop here to order algae cosmetics online.
Food supplementation with microalgae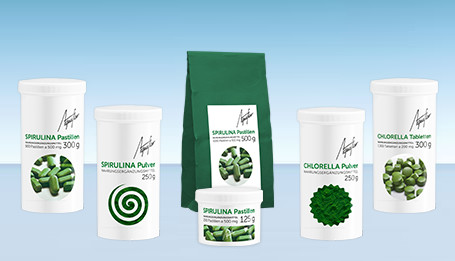 From sample sizes to refill packs, you receive high quality chlorella and spirulina microalgae, pressed into tablets or as a powder.
Algae cosmetics - care products for the skin, hair, body and face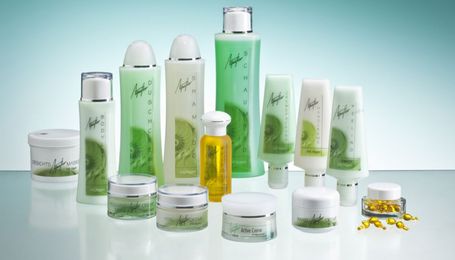 You can find various care products for the skin, hair, body and face with the best that microalgae have to offer in our shop.
Development of cosmetics
Do you have new approaches and require support in their implementation, from an idea to a recipe to a saleable end product? We will advise you in developing product ingredients and designing the product, and carry these tasks out completely as a contractor if desired.